Echo Energy, the Latin American focused upstream energy company has completed the first in a programme of sixteen proposed well interventions and workovers to bring non-producing reserves back in to production at Santa Cruz Sur.
The first intervention has now been successfully completed on a well in the Chorillos block. For the operation, a surface hydraulic pumping unit was used to induce flow and over a 100-hour period, the well delivered a cumulative 305 bbls of high-quality oil as part of this intervention and flow induction process, a rate equivalent to c.76 bopd.
The intervention focused on assessing the production potential and delivery of high-quality oil at low water cut from a well last fully online in 2013. Prior to the intervention the relevant field was producing 17 bopd from a small number of active wells.
The intervention and workover programme is in addition to the Company's previously announced programme of reactivating, at the appropriate time, previously shut-in wells at the Campo Molino oilfield and has been commenced in line with the current strategy of focussing upon production to deliver the highest quality and highest-priced blend oil production at Santa Cruz Sur.
The Company intends to optimise the timing of when the well is brought into full production to maximise cost and operational efficiencies within the larger work programme for the Santa Cruz Sur assets.
As previously announced by the Company, prior to the completion of the well intervention, liquids production net to Echo averaged approximately 290 bopd in September 2021.
Martin Hull, Chief Executive Officer of Echo Energy, commented:
"I am pleased to announce that we have successfully completed an initial well intervention on Santa Cruz Sur. This well delivered high-quality production capacity and demonstrates the quality and production potential of opportunities available from our assets at Santa Cruz Sur. We look forward to further updating the market as our work programme progresses."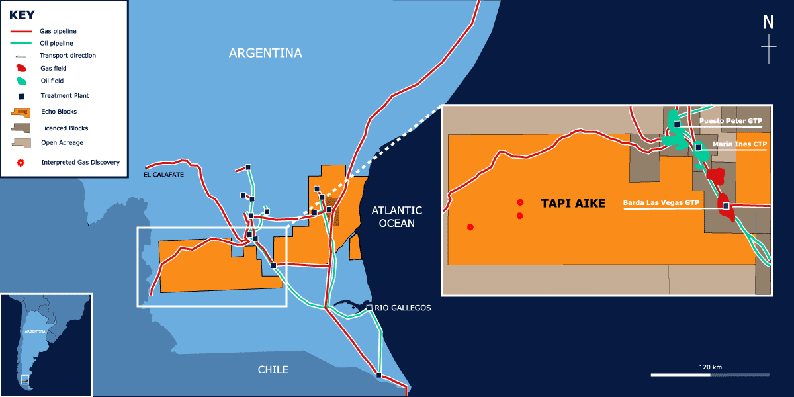 Santa Cruz Sur
Santa Cruz Sur is a collection of 5 production concessions located in the onshore Austral Basin, southern Argentina.
The assets sit to the northeast and southeast of Echo's Tapi Aike exploration block and make up the production component of Echo's full cycle strategy.
The licence portfolio consists of 12 producing oil and gas fields with existing infrastructure allowing the delivery of oil and gas to local, domestic and international export markets.