Masirah Oil announces that production has commenced from the third development well drilled in the Yumna Field. The well was spudded on 20 January 2021 and production commenced on 18 February 2021. The well has been tested at a rate of 12,984 stb/d of oil on natural flow through an 80/64" choke.
Yumna 3 encountered hydrocarbons in 10.4 metres of Lower Aruma sandstone with a very good porosity of 23.4 per cent, proving that the good quality reservoir sand is extensive to the South East of Yumna 1, with exceptional permeability of about 2,000 md. The reservoir pressure depletion over the first year of production is around 100 psi, confirming that excellent pressure support is provided by a strong aquifer.
The Shelf Drilling Tenacious jack-up rig has been moved from the Yumna Field to the Zakhera exploration well location which is about 12 km to the south of the Yumna Field.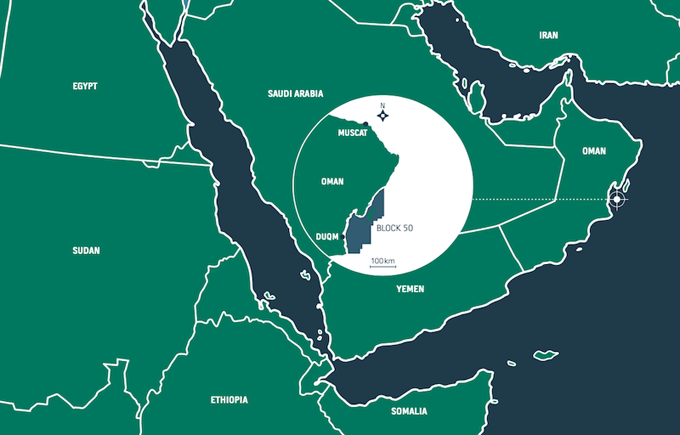 Yumna Discovery
On 4 February 2014, an oil discovery called GA South (subsequently renamed Yumna) was announced in Block 50. During a 48-hour test, hydrocarbons were flowed to the surface and the well achieved a flow rate of 3,500 stock tank barrels per day of light oil with no water production. The discovery is significant as it is the first offshore discovery east of Oman after 30 years of exploration activity in the area. The discovery won the "Offshore Discovery of the Year" award in Oman.
In early-November 2019, a drilling rig contract was awarded to drill an appraisal well in Block 50 Oman. By the end of the month, a floating storage and offloading vessel contract for an Aframax tanker with a storage capacity of more than 700,000 barrels was awarded, to store crude oil that would be produced during the early appraisal phase of the Yumna (previously known as GA South) field. On 26 December 2019, the Yumna 1 well was spudded. The well came in as prognosed and confirmed the updated reservoir model. The well tested at a production rate of 11,843 stb/d through a one-inch choke with a crude oil gravity of 42 degrees API.
First oil from Yumna 1 was achieved at the end of March 2020. As at July 2020, the Yumna 1 well has produced more than one million barrels of oil.
KeyFacts Energy: Masirah Oil Oman country profile