Melbana Energy this week reports that the Alameda-1 exploration well spudded on Monday morning, 13 September 2021, Cuban time.
The Alameda-1 well shall test three separate targets with a combined prospective resource (best estimate) of 141 million barrels of oil.
Conditions at site are good and an additional 14 containers of contractor materials and equipment arrived at port on schedule on 13 September and are in the process of clearing customs and being transported to site. Additional Melbana personnel have also now arrived in country to supplement the capabilities of the project management team.
Melbana Energy's Executive Chairman, Andrew Purcell, commented:
"This has been a longanticipated day and our thanks and appreciation go out to all those members of our project management team that have toiled so tirelessly over many months to ensure that we commenced drilling on schedule. We will provide regular updates as drilling progresses."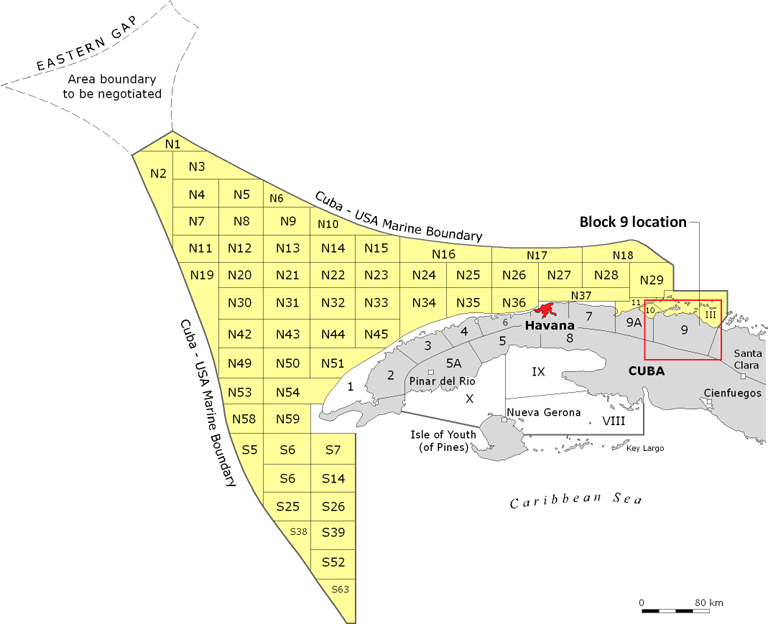 Map source: KeyFacts Energy
Alameda Prospect
The Alameda Prospect is currently the highest ranked exploration target in Block 9 PSC. Alameda is a large structure located in the western part of Block 9 and is in a similar structural position to the Varadero field, the largest oil field in Cuba, approximately 35km away.
The proposed Alameda-1 well which will test a combined exploration potential of over 2.5 billion barrels Oil-in-Place and 140 million barrels of recoverable oil of recoverable oil on a 100% unrisked, best estimate basis and 279 million recoverable barrels aggregate high side potential.
The primary objective at Alameda ranges in depth from approximately 3,000 to 3,700 meters. The presence of oil in the Alameda structure is supported by the Marti-5 well drilled within the prospect closure in a down flank position nearly 30 years ago and which recovered 24° API oil and had numerous oil shows extending over a 850 metre gross interval from the Lower Sheet section.
This exploration well has been designed as a mildly deviated well, with a total measured depth of 4,000m to enable the well to penetrate three independent exploration objectives; the primary Alameda objective as well as the shallower N and Amistad (formerly U1) objectives.
While characterised as an exploration well, the chance of success at Alameda-1 benefits from two old wells, Marti-2 and Marti-5, both of which recovered oil from Amistad/ U1 and Alameda objectives respectively. The Amistad/U1 objective is a structure indicated on seismic as being updip of the tested oil recoveries in the Marti-2 well. Alameda-1 is estimated to take approximately 80 days to drill. In the event of a discovery at Alameda there would be significant follow up potential, with a number of additional leads in close proximity.
KeyFacts Energy: Melbana Energy Cuba country profile