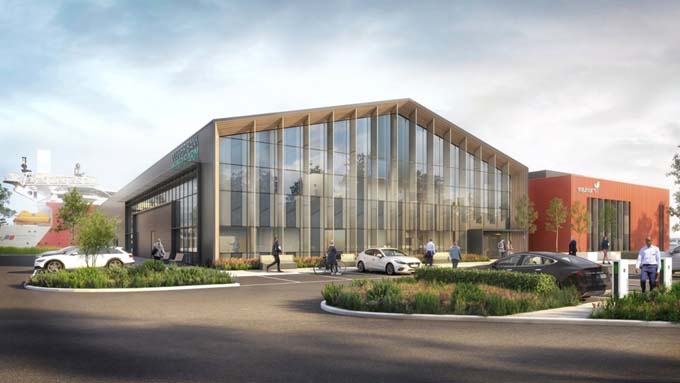 Visualisation of the sustainable Dogger Bank Operations and Maintenance Base that will be constructed at the Port of Tyne
Dogger Bank Wind Farm has today revealed that its new operations and maintenance (O&M) base will be constructed and operated in line with the UK Green Building Council's (UKGBC) Net Zero Carbon Buildings Framework, to ensure transparent and robust reporting of its sustainability credentials.
The facility, to be located at the Port of Tyne, will support what will become the biggest offshore wind farm in the world upon completion. Construction of the base is expected to start in Q3 2021 and end in Q3 2022, ahead of wind farm operations starting in 2023. Around 200 people will be based there or offshore to operate and maintain the wind farm, which will be able to generate around 5% of the UK's electricity.
The O&M base has been designed by international design practice, Ryder Architecture, headquartered in Newcastle. The construction project is being managed by Equinor, which has contracted global real estate advisor CBRE as the local Project Manager, and Bowmer + Kirkland (B+K) as the Principal Contractor for the facility.
B+K will manage the work from their offices in Sunderland, close to the Port of Tyne where the base will be located.
Halfdan Brustad, Vice President for Dogger Bank at Equinor, said,
"With the capability to generate electricity for millions of homes, Dogger Bank Wind Farm is being built on a scale never been seen before in offshore wind. The project will make a real contribution to decarbonising our electricity system, and help the UK meet its net zero targets.
"The sustainable ethos of the project runs right through to operations. We are delighted that we will work with CBRE and Bowmer + Kirkland on this innovative building, that has been designed by Ryder with sustainability at the forefront. This modern and attractive facility will support over 200 people working directly on Dogger Bank, and be a proud base at the heart of the North East for teams working on the world's largest offshore wind farm."
The 3407m² base will use low carbon materials and will meet the highest energy efficiency classifications. Solar PV panels will be installed for onsite renewable generation, and EV charging points will be available so staff and visitors can travel there in low emissions vehicles, further reducing the wider impact.
In the UK, the industry recognised framework for verifying the Net Zero Carbon (NZC) performance of the built environment, both during construction and operational phases, is provided by the UK Green building council (UKGBC). There are two strands to this framework, principles for NZC construction and principles to be applied for operational NZC; both of which will be applied to the base. CBRE will work closely with the project team to apply industry recognised approaches to material selection, operational energy modelling and carbon accounting, submitting a final evidence pack for third party review.
To demonstrate commitment to NZC and to drive down the cradle to practical completion embodied carbon, the project has set an internal carbon price (ICP) for the facility aligned with industry best practice. Consideration of this ICP rate alongside the market cost of associated materials has allowed the design team to make a financial case for selecting materials with best in class environmental performance. CBRE is overseeing the Project and Cost Management for the project. In addition, CBRE is providing Mechanical and Electrical Design, Sustainability and Environmental Consultancy.
Mark Little, Head of Scotland, Project Management and Building Consultancy at CBRE, said
"We are incredibly excited and honoured to deliver this project on behalf of Dogger Bank Wind Farm. The design and construction methods to be used are at the forefront of sustainable development, maximising the use of local skills and materials in and around the North East."
Bowmer + Kirkland has been appointed to perform detailed design and build the facility, including office space, a large warehouse to store spare parts, car parking and HGV yard as well as an outside recreational area.
Liz Wilson, B+K Project Manager said:
"The Bowmer + Kirkland North East & Scotland region is immensely proud to be representing Dogger Bank for this new development that will attract some of the region's leading professionals. It is fantastic that we have been successful in our bid for this high profile project and that we are able to provide support and sustainability to our region and local supply chain especially after the last 18 months."
Dogger Bank Wind Farm Director, Steve Wilson, said:
"With its low carbon materials, solar panels and EV charging points, we hope this locally-designed base will help inspire future developers as the UK continues on its journey to net zero. Once again Dogger Bank Wind Farm has pushed the boundaries of what's possible to drive positive improvements in low carbon development."
Dogger Bank wind farm will be located more than 130km out to sea, off the North East coast of England, and when complete will be able to generate around 5% of the UK's electricity.
The project has already announced it will use the world's first Ultra-Low emissions jack-up vessel to install its ground-breaking turbines, the most powerful in the world, and the Service Operations Vessels used during operations will be fitted with a hybrid battery system to reduce emissions even further.
Recruitment will ramp up in 2022, as the project looks to fill roles including wind farm technicians, health and safety professionals, project planners and engineers. It is expected that the activity from a world-leading project as large as Dogger Bank will attract supply chain companies to the area, and companies in the North East are already feeling the ripple effects.
Area of Dogger Bank offshore wind farm compared to Greater London
Dogger Bank wind farm is being built in three phases, Dogger Bank A, B and C. Dogger Bank A and B are a joint venture between SSE Renewables (40%), Equinor (40%) and Eni (20%). Dogger Bank C is a joint venture between SSE Renewables (50%) and Equinor (50%). SSE renewables is leading on the construction of the wind farm and Equinor will operate the wind farm for its lifetime of up to 35 years.
Equinor in the North East of England
As a broad energy company, Equinor is committed to long term value creation in a low carbon future, and targeting carbon neutral operations globally by 2030.
With its partners SSE Renewables and Eni, Equinor is building the largest offshore wind farm in the world, Dogger Bank, off the North East coast of England. Equinor will lead the Operations phase of the wind farm, and around 200 new roles will be created to operate and maintain the wind farm, from a state-of-the-art base that will be constructed at the Port of Tyne.
Equinor is working closely with the North East Offshore Wind Cluster Energi Coast and the Offshore Renewable Energy Catapult to advance the offshore wind industry in the region. This includes supporting the Technology, Innovation & Green Growth for Offshore Renewables (TIGGOR) programme designed to boost supply chain growth and productivity for companies in the North East.
Equinor is also a leader in carbon capture utilisation & storage (CCUS) and hydrogen, and is developing a number of projects in the UK, including in the Humber and Teesside regions of North East England. It is developing the H2H Saltend low-carbon hydrogen production plant that is at the heart of the Zero Carbon Humber alliance and collaborating with SSE Thermal on low-carbon power projects using hydrogen and carbon capture in the Humber. It is also partnering in the Net Zero Teesside power project and, as part of the Northern Endurance Partnership, it is developing CO2 transport and storage infrastructure for the Humber and Teesside.
KeyFacts Energy Industry Directory: Equinor New Energy Solutions