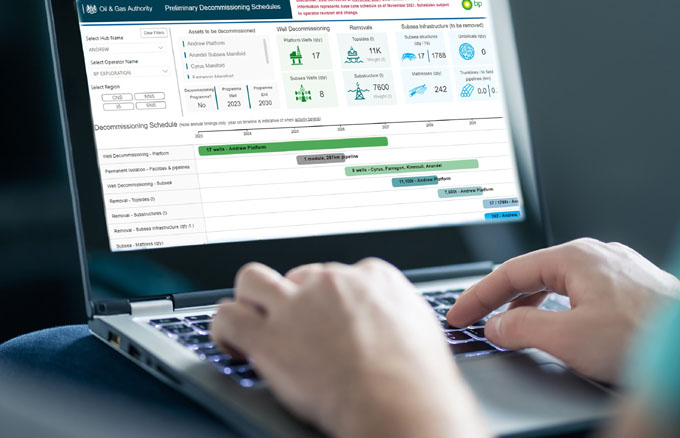 Initiative answers call for greater visibility of decommissioning work schedules
Trio of UKCS operators support industry taskforce's pilot scheme
An industry taskforce has launched an initiative harnessing data and digital solutions to give the supply chain a clearer picture of future decommissioning work.
A lack of certainty and transparency around the timing of projects has been a persistent source of frustration for many service companies.
To tackle this issue, the Decommissioning and Repurposing Taskforce (DaRT), co-chaired by the Oil and Gas Authority (OGA) and industry, is piloting the Decommissioning Data Visibility project.
Operators bp, EnQuest and Spirit Energy agreed to the release of a wide range of field-specific decommissioning information, including all-important schedules.
The OGA has presented this data in interactive dashboards on its website to help suppliers keep abreast of work that will come up in the medium-term, giving them confidence to invest in technology and training.
DaRT intends to expand the project next year to feature more operators' decommissioning plans.
The initiative aims to support all parts of the decommissioning supply chain, including heavy-lift vessel owners, drilling contractors, subsea specialists, onshore dismantling firms and waste managers.
As well as finding out when work is expected to begin, users can see how many wells need to be decommissioned on each field and how much subsea infrastructure, including concrete mattresses and pipelines, must be cleaned and/or removed.
The dashboards also display the weight of topside modules and jackets earmarked for removal. This project ties in with the OGA's Decommissioning Strategy, which highlights the importance of data transparency to help foster a competitive and sustainable decommissioning market.
Improved collaboration and knowledge-sharing will be important if the industry is to achieve its target of reducing the UK Continental Shelf (UKCS) decommissioning cost estimate by 35% by the end of 2022.
The taskforce's Decommissioning Data Visibility project complements the OGA's Pathfinder website, which has been revamped and expanded to include a wider scope of information about near-term tendering opportunities across all types of projects, including energy transition developments.
Pauline Innes, DaRT co-chair and OGA Head of Decommissioning, said:
"Supply chain companies have told us they find it difficult to plan effectively because they don't always know which decommissioning work scopes are coming up.
"By putting a wealth of data in one place, DaRT's project is showing the service sector the bigger picture view across the UKCS, helping it come up with solutions for delivering cost-efficient decommissioning."
Neil McCulloch, DaRT co-chair and Executive VP, Technical & Operated Assets at Spirit Energy, said:
"Cost-effective decommissioning remains a key Stewardship Obligation and a shared priority.
"In the Government's response to the Call for Evidence in 'Strengthening the UK's offshore oil and gas decommissioning industry', transparency of the future decommissioning pipeline, setting and sharing appropriate KPIs and benchmarks, adoption and deployment of new technology, and mechanisms to improve market intelligence were identified as key priorities.
"The Decommissioning Data Visibility project, and OGUK's new interactive tool accompanying their Decommissioning Insight report, will give the supply chain greater visibility of future work, which will enable more efficient operations in decommissioning. This, in turn, will support industry in its journey to achieving its net-zero target."
KeyFacts Energy: Oil & Gas Authority