United Oil & Gas, the growing oil and gas company with a portfolio of production, development, exploration and appraisal assets is pleased to announce that the request for a two-year extension for the Walton Morant Licence, Jamaica, has been granted by the Jamaican Cabinet.
Following completion of the approval process, the licence will run to 31 January 2024. An amendment to the Production Sharing Agreement ("PSA") will be submitted to the Ministry of Science, Energy and Technology ("MSET") for final signature in mid-December 2021.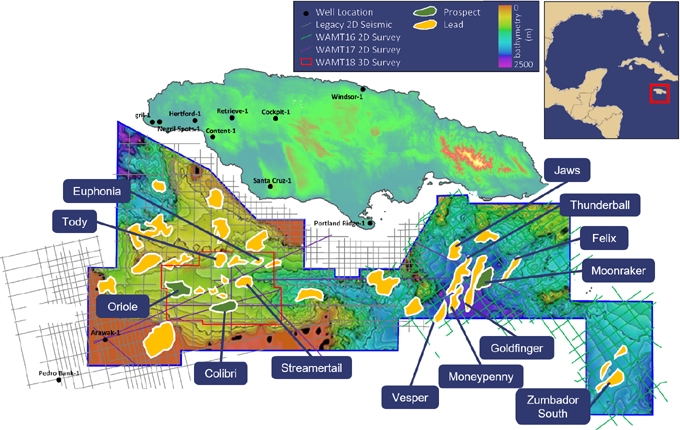 There is strong evidence of a hydrocarbon system in Jamaica, including source, reservoir, and seal rocks. An independent evaluation by Gaffney Cline & Associates, as announced by the Company in December 2020, of 11 high graded leads and prospects indicated the potential for a combined estimated 2.4 billion barrels mean prospective resources. United started a formal farm-out process for the Walton Morant Licence earlier this year. The Company is seeking a strategic drilling partner(s) with a view to drilling the primary 3D seismic defined Colibri prospect, which is estimated to hold mean prospective resources of 406 million barrels.
United holds and operates a 100% equity interest in the Walton Morant Licence, Jamaica.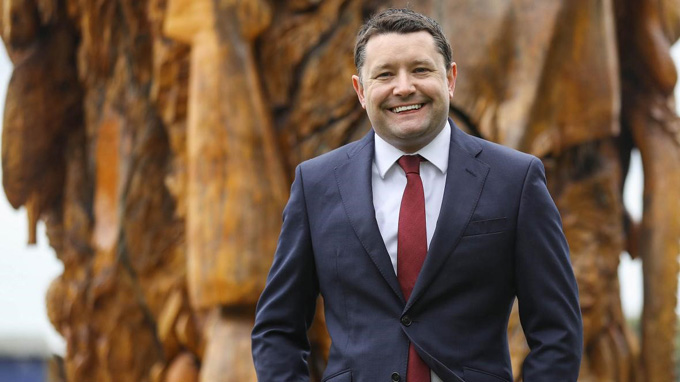 Brian Larkin, Chief Executive Officer commented
"We are delighted to have received approval for the two-year licence extension in Jamaica. United has done extensive technical work on this asset, which has over 2.4 billion barrels of unrisked oil potential and the basin-opening Colibri prospect at a drill-ready stage. The extension allows us to continue the farm-out campaign with confidence as we look for a strategic partner(s) to unlock the vast potential in this region. The support and encouragement of the Government of Jamaica has been excellent and reflects our strong relationship and the positive outlook for the industry in Jamaica. With the licence extension, the outlook for higher commodity prices, sentiment for exploration and anticipated recovery of the investment cycle we look forward to pursuing this significant opportunity in the region for the benefit of all stakeholders."
KeyFacts Energy: United Oil & Gas Jamaica country profile
COMPANY PROFILE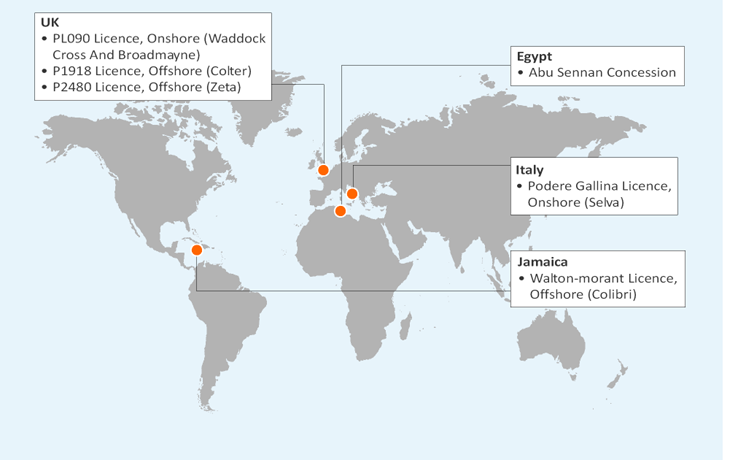 Established in 2015, United Oil & Gas (UOG) is a high growth oil and gas company with a portfolio of low-risk, cash generative production, development, appraisal and exploration assets across Egypt, UK, Italy and a high impact exploration licence in Jamaica.
The business is led by an experienced management team with a strong track record of growing full cycle businesses, partnered with established industry players and is well positioned to deliver future growth through portfolio optimisation and targeted acquisitions.
OVERVIEW OF OPERATIONS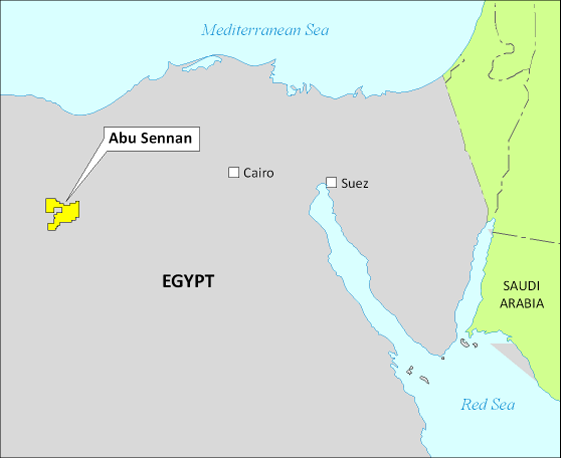 EGYPT
In early 2020, United Oil & Gas completed the acquisition of Rockhopper Egypt Pty, which included a 22% non-operating interest in the Abu Sennan concession.
The Abu Sennan concession is located in the prolific hydrocarbon-producing Western Desert region of onshore Egypt, and comprises 7 Development Concessions, each containing a producing field, as well as a 644km² Exploration Licence. The licence is operated by Kuwait Energy Egypt (25%), with Global Connect Ltd (25%) and Dover Investments (28%) the other partners in the Joint Venture.
In February 2020, there were 17 wells in production on the concession, which were delivering c.7,900 boepd gross production (1,740 boepd net to United's 22% interest). A CPR report completed by Gaffney Cline & Associates dated 29th October 2019 estimated 2P reserves net to United's working interest of 2.66mmboe.
Discoveries
In February 2021, the ASH-3 development well was successfully tested from the targeted AEB Formation, with preliminary results indicating maximum flow rates of 6,379 bopd and 6.7 mmscf/d (c. 7,720 boepd gross; 1,700 boepd net working interest).
In April 2021, UOG reported a discovery at ASD-1X Well. Preliminary results suggest the well encountered a combined net pay total of at least 22m across a number of reservoir intervals, including the primary reservoir targets of the AR-C and AR-E, as well as the Lower Bahariya and Kharita Formations.
United Oil & Gas have since secured approval from the Minister of Petroleum of the award of a development lease covering the ASD-1X discovery.
Reserves
An independent reserves and resources report was completed on the Abu Sennan concession at the end of 2020 by Gaffney, Cline & Associates.
The report indicates that gross 2P reserves have increased to 16.8 MMboe (15% gas) compared to 13.5 MMboe at the end of 2019. This is an annual increase of 24%, and given that c. 3.3 MMboe was produced from the Abu Sennan assets during 2020, indicates a reserves replacement ratio for 2020 of 198%. Gross 1P and 3P reserves have also increased, and are up by 59% to 6.7 MMboe and 21% to 34.7 MMboe respectively (from 4.2 MMboe and 28.6 MMboe at the beginning of 2020).
Applying United's 22% working interest to the gross 2P reserves gives 3.7 MMboe, up from 2.97 MMboe at the end of 2019. The Independent Reserves Report has an effective date of 31st December 2020, and has not incorporated the results of the successful ASH-3 and ASD-1X wells that were drilled since the start of 2021.
UNITED KINGDOM
In August 2016, United Oil & Gas acquired First Oil's stake in the PL090 licences, onshore UK. These include an existing onshore field and access to significant exploration opportunities.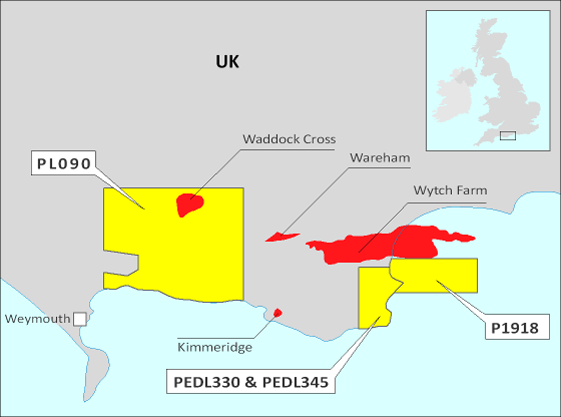 The PL090 licences are situated in the Wessex Basin – a long-established productive basin that contains Wytch Farm, the largest oil-field in onshore Europe.
PL090 Licence, Onshore UK (Waddock Cross and Broadmayne)
There are two parts to the PL090 licence – the Waddock Cross Field itself, and the exploration acreage beyond the boundaries of the field. United Oil & Gas hold a 26.25% stake in the Waddock Cross Field (with an area of 19km²), and an 18.95% stake in the exploration licence (183km²). Both licences are operated by Egdon Resources and do not expire until 2024.
PL090 Waddock Cross Field (26.25% equity)
Shallow (~600m subsurface) field with a large in-place volume of oil held in Jurassic Bridport Sandstone reservoirs (29 million barrels gross) and net 2C resources of 320,000bbls (ERC Equipoise CPR estimates).
After appraisal wells in 2004 and 2005, the Waddock Cross Field was brought into production in 2013. After disappointing oil rates due to higher than anticipated water-cut, the field was shut-in.
Existing 3D seismic has recently been reprocessed with positive results. The operator is now completing reservoir modelling and well-cost estimates ahead of well-planning with a potential spud date in 2020.
A successful well here could deliver rates in excess of 200bopd, with payback within 6 months
PL090 Exploration (18.95% equity)
United Oil & Gas believe this to be some of the most prospective onshore exploration acreage in the UK.
Numerous exploration targets have been identified in the licence.
The Triassic Sherwood Sandstone reservoir is a particularly interesting target. In the neighbouring Wytch Farm Field, only 15km to the east, these same reservoirs have produced over 450mmbbls of oil. The prospects identified in PL090 lie in a similar structural setting to Wytch Farm, and are on a potential migration route for oil spilling out of the field to the west. Work by ERC Equipoise on the Broadmayne prospect suggests it has gross prospective resources of 4mmbbls.
P1918 Licence, Offshore UK (Colter)
In January 2018, United Oil & Gas acquired a 10% stake in the P1918 licence from Corallian energy. The licence includes a discovery in a well-defined structure with significant updip potential still to be targeted.
The P1918 licence is located offshore southern UK, adjacent to Wytch Farm, Europe's largest onshore oil field.
The Colter Discovery and Well 98/11a-6
The Colter Discovery was made by Well 98/11-3 in 1986. This well encountered a 10.5m oil column in the Triassic Sherwood Sandstone, from which 41.9°API oil was successfully flowed to surface. This is the same play that has been so productive at Wytch Farm, and which UOG are already chasing in Licence PL090.
Well 98/11a-6 targeted an area updip of the 98/11-3 well that had been identified on 3D seismic data. It spudded on 6th February 2019. The initial borehole did not intersect the targeted structure, but made an unexpected new discovery at Colter South, encountering 9.4m of gross oil pay in the same fault-block as the 98/11-1 well. This Colter South discovery is now under evaluation.
The well was then sidetracked to tag the originally targeted fault-block to the north. However, the targeted Sherwood Sandstone reservoir section came in below the OWC of the 98/11-3 well, suggesting the original Colter structure is smaller than pre-drill estimates. Encouragingly, the sidetrack did find strong shows in the shallower Jurassic section, with positive implications for prospectivity along strike.
Work is continuing to evaluate the commercial implications of the new Colter South discovery and the additional prospectivity in the block.
The farm-in deal with Corallian also included taking a 10% stake in onshore licences PEDL330 and PEDL345. The Sherwood Sandstone play extends into this area, and work to delineate attractive exploration opportunities in these licences is also being progressed.
P2480 Licence, Offshore UK (Zeta)
In August 2019, United Oil & Gas were awarded 100% interest in Licence P2480 as part of the UK 31st Licensing Round. The licence covers an area of approx. 500km² and includes blocks 14/15c, 15/11c, 15/12a and 15/13c in the Outer Moray Firth Basin. These blocks are located near the Crown, Marigold, Sunflower and Yeoman discoveries, as well as the Piper and Claymore fields and associated infrastructure.
The P2480 Licence contains multiple prospects and leads in proven plays in the basin. These include the Zeta Prospect which is estimated to contain a mean unrisked in-place volume of 90 mmbbl.
ITALY
In July 2017, United Oil & Gas (UOG) completed a farm-in agreement with Po Valley Energy (PVE) to acquire a 20% economic interest in the Podere Gallina Licence in the Po Valley region of Italy. The licence contains the currently shut-in Selva gas-field as well as exciting exploration opportunities. The Podere Maiar-1 (PM-1) well was completed in December 2017, and successfully found a commercial gas accumulation updip of the previous wells on the Selva field.
Selva Field and the Podere Maiar 1 well
The Selva Gas Field produced over 83 Bcf before being shut-in in 1984, when it was still producing at >0.9Bcf per year with no apparent water-cut.
The Podere Maiar 1 (PM-1) well targeted the same productive reservoirs, updip of the previous wells
The PM-1 well was completed in December 2017 after encountering 41m of net gas pay in excellent quality C1 and C2 sandstone reservoirs of the Pliocene Porto Garibaldi Formation.
The well was tested in January 2018. The lower, C2 reservoir, reported a peak flow-rate of ~150,000scm/d (875boepd) on a 3/8" choke. On a separate test, the upper C1 reservoir, flowed at a peak rate of ~130,000scm/d (750boepd), also on a 3/8" choke.
Although there is limited seismic data over the field, the large number of wells on the structure constrain the reservoir edge, and coupled with the recent PM-1 well results indicate gross base-case recoverable volumes of 18Bcf (3.1mmboe).
Podere Gallina Exploration
As well as the Selva Field, there are further material exploration opportunities within the Podere Gallina licence
East Selva is along the same play trend as the Minerbio and Selva Fields, separated from Selva by a structural saddle
The recent PM-1 results have helped de-risk this structure, and a 3D seismic to cover this and the other prospectivity in the Selva area is planned once the Selva Field is in production
Work by CGG on the East Selva lead indicates it holds base-case recoverable resources of 35 Bcf
JAMAICA
In November 2017, United Oil & Gas farmed into the Tullow Oil operated Walton Morant Licence, offshore Jamaica, at a 20% equity level.
In May 2018, the acquisition of 2,250km² of 3D seismic data was successfully completed. This was the first ever 3D survey completed in Jamaica and was focussed on the high-graded Colibri Prospect.
In July 2020 United received approval from the Jamaican Government to take the Walton Morant Licence forward on a 100% operated basis, with Tullow's 80% equity transferred to United for a nominal fee. The amended Walton Morant Licence covers an area of c. 22,400km².
United has been granted an 18-month extension to the Initial Exploration Period of the licence and has until the 31st January 2022 before a drill-or-drop decision is required, prior to entry into the Second Exploration Period and a commitment to the drilling of an exploration well.
During the 18-month extension, United will complete an agreed work programme aimed at further de-risking the prospectivity on the block
LEADERSHIP / CONTACT
Graham Martin Non-executive Chairman
Brian Larkin Chief Executive Officer
Jonathan Leather Chief Operating Officer
David Quirke Chief Financial Officer
Iman Hill Non-executive Director
Tom Hickey Non-executive Director
United Oil & Gas - Dublin Office
128 Lower Baggot Street, Dublin, D02 A430, Ireland
London Office
200 Strand, London, WC2R 1DJ, UK
Tel: +44 20 7539 7272
Italian Office
Viale Gioacchino Rossini 9
00198, Rome, Italy
United Oil & Gas country profiles: UK l Egypt l Italy l Jamaica l KeyFacts Energy: Country Profile