Sintana Energy today announced that Trago Energy, a Namibian affiliate of the Company, has completed a transaction with Chevron Namibia Exploration Limited, a wholly-owned subsidiary of Chevron, in respect of its interest in Petroleum Exploration License 90 ("PEL 90") located in the Orange Basin in Namibia.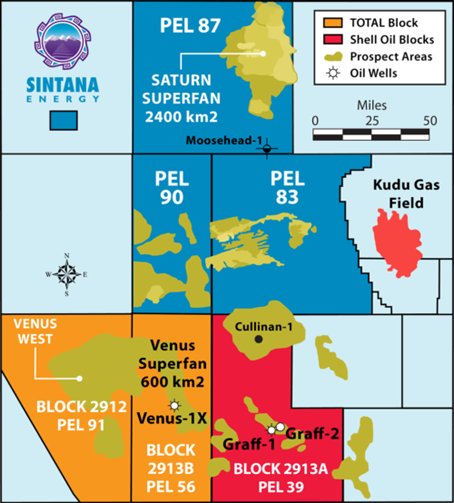 Map source: Sintana Energy
Trago will retain a 10% interest in PEL 90 ON Block 2813B. Chevron will carry Trago through initial exploration activities including 3D seismic and drilling of the first exploration well. Post the carry period, Trago will be responsible with approved expenses associated with its interest. Additional terms of the transaction have not been publicly disclosed.
PEL 90 represents one of the most exciting exploration opportunities in the Orange Basin sitting directly above TotalEnergies' Venus-1 oil discovery.
"We are very happy to partner with Chevron in the Orange Basin," said Knowledge Katti, Chairman and CEO of Trago and a Director of Sintana. "This transaction in our emerging, globally significant deepwater province brings partnership with an aligned, highly experienced and committed deep water drilling operator.
"This partnership demonstrates the continuing emergence of Namibia as an important hydrocarbon province, and the timeliness of our entry in March of this year," said Robert Bose, President and Director of Sintana. "We look forward to the near-term exploration activity on PEL 90."
KeyFacts Energy: Sintana Energy Namibia country profile

If you would like to discover more about KeyFacts Energy, contact us today and we can arrange a 15-minute online meeting to review our database of over 2,600 continually updated 'country-specific' oil and gas and renewable energy profiles from a selection of 144 countries. Find out how you can instantly identify companies with operational activity in your chosen country, 'fine-tune' your news or company selection based on industry category, energy type or regional location and additionally benefit from one to one contact with us to ensure maximum online and social media exposure for your company.