Aberdeen based Solab has won the coveted award for Exceptional Impact Company (SME) at this year's Offshore Achievement Awards (OAA) for its breakthrough technology Onboard Tracker™.
The awards ceremony, which took place last night (Thursday, March 16th), at a glittering in-person event at P&J Live, saw the Solab team take home the award for its revolutionary software that is leading a digital revolution for clients such as Subsea 7, Sparrows, Boskalis and Ponticelli PBS.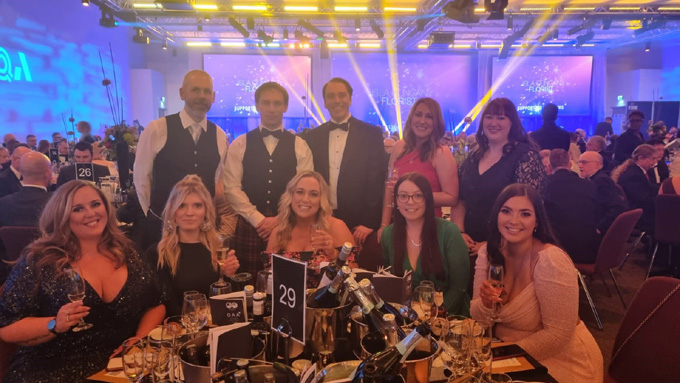 These industry leaders now use Solab's online hub to manage Global Personnel Logistics & Planning, Crew Rotations, Training, Certification and Competence.
Onboard Tracker™ has become a leading light in the North East's Digital Workforce initiatives and helps keep tens of thousands of energy workers trained, competent and safe.
The online system tracks crews visiting over 70% of the manned rigs in the UKCS and in over 100 countries, as well as almost 30% of dive support vessels.
While the system supports the primary industries of oil and gas and marine, the Onboard Tracker™ focus on renewables is ramping up in line with the energy sector's net zero goals.
Now in its 36th year, the OAA reward innovative technologies and growth in companies both large and small, as well as significant contributions of individuals within the industry. The prestigious awards give recognition to the achievements of those who go above and beyond across the energy sector.
The Exceptional Impact Company (SME) award recognises excellence in performance in the offshore energy sector by a small or medium sized company that is 'punching above its weight'.
Kevin Coll, Managing Director, said,
"Exceptional Impact Winners - wow! Almost 10 years ago we set out to try and change Crew Management across the energy industry so that we could help our clients own their data in one, easy to use system, be more efficient and keep their workforces safer. We couldn't have imagined how it has grown.
"The use of digital technology is now more of a priority than ever for those working within the energy sector as they seek to transform operations.
"Onboard Tracker™ is a true example of digital transformation in action and to win the Exceptional Impact Company award is a resounding acknowledgement of our commitment to ensuring our technology meets these shifting industry challenges and the needs of evolving modern business.
"We are very proud to have developed a progressive technology that paves the way for more efficient crew management that is now making an exceptional impact on the energy and renewables sector.
"Thanks go to my amazing team for their hard work, passion and enthusiasm and to our fantastic clients for being with us on this incredible journey. Their belief in us and their commitment and partnership has driven us to embrace new technologies which is now supporting the future of safe and effective global crew management."
KeyFacts Energy Industry Directory: Solab l KeyFacts Energy news: Aberdeen Focus