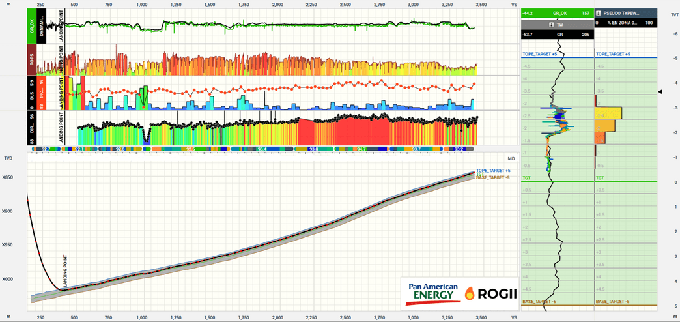 Pan American Energy drills horizontally positioned well with high precision in the Vaca Muerta Formation in the Neuquén Basin in northern Patagonia, Argentina
Pan American Energy, the operator, has recently successfully completed the drilling of a horizontal well in the Lindero Atravesado area in Vaca Muerta.
The 3,050-meter lateral section well was landed and geosteered with exceptional precision within a very narrow interval within the Vaca Muerta Formation, utilizing only 3.2 vertical meters of thickness to position the entire horizontal section.
The high-precision geosteering of this well was carried out by PAE's drilling and geology team in conjunction with ROGII Latina's well placement team.
PAE utilizes specialized software combined with collaborative cloud-based technology developed by ROGII to enable 24/7 monitoring, real-time interpretation, and decision-making, supporting effective and timely communication among the specialist teams. In the geological context, the lateral section was drilled along an upward-dipping monocline, ranging from 2.1° to 4.7°, crossing lithology that varied from marls to clayey limestones. Detailed analysis shows that this well achieved 76.2% (over 2,300m) within a mere 1m thickness of the target.
This project is considered a significant milestone due to the ability to meet the proposed objectives set by both drilling and geosciences.
The precise placement of the well, while maintaining a high penetration rate (averaging 45m/hour) using a BHA equipped with RSS, allowed the drilling to be completed within the planned timeline.
KeyFacts Energy: Pan American Energy Argentina country profile l KeyFacts Energy Industry Directory: ROGII