MultiClient data is a useful tool for licensing applications enabling regional to field-scale prospectivity evaluations. PGS has been supporting Africa's hydrocarbon industry with advanced acquisition and imaging for over two decades. The company's extensive MultiClient Africa data library is an essential resource for those seeking new venture opportunities or to understand the mature areas and producing landscape.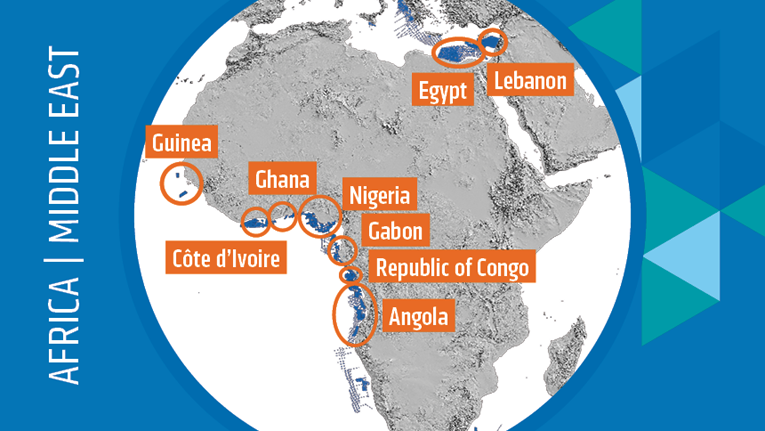 Angola
A seven-year program of license rounds was announced in June 2019. Phase one, covering frontier Namibe and Benguela basins, opened in early October and closed in November. In 2020 Angola will tender onshore Kwanza basin blocks, with offshore shallow water Kwanza Shelf and Lower Congo basin licensing timed for 2021.
PGS data provides a solid foundation to build a regional understanding of the hydrocarbon potential offshore Angola by unraveling and derisking the pre- and postsalt prospectivity. The undrilled Namibe region is covered with 12 000 sq. km of 3D GeoStreamer and 12 000 km 2D GeoStreamer data.
The combination of 3D GeoStreamer technology with modern imaging techniques is expected to unlock plays in Kwanza basin open shelf blocks 6, 7, and 8.
The 2021 round will include blocks in the Lower Congo basin, also covered by PGS data.
Gabon
Bid submissions are due in January 2020 for the Republic of Gabon twelfth licensing round. Acreage includes 12 shallow and 23 deepwater blocks. Participants must complete a solid subsurface evaluation, including the purchase of seismic and well data.
PGS regional interpretation and data cover most of the 35 blocks on offer for the licensing round. Data packages support the required technical evaluations and bid applications.
The Gabon MegaSurvey was built over 10 years, in partnership with the DGH. It comprises 36 000 sq. km of merged 3D seismic data from 60 surveys, together with 6 836 km of 2D seismic from 182 lines.
Ghana
Ghana's first license round closed in May 2019, with the next round due 2020/21, which is anticipated to focus on frontier areas.
A new PGS MegaSurvey covers this extensive prospective offshore area, with 24 000 sq. km of 3D seismic data and 17 000 km of 2D extending from the prolific Tano basin in the west through the Salt Pond basin and into the relatively frontier Keta basin to the east.
MegaSurvey coverage can be used to explore for analogs of existing discoveries or to identify new prospects.
Côte d'Ivoire
PetroCi and the DGH launched the current licensing round in 2017. Nineteen blocks have been awarded to multiple oil companies.
The Ministry of Petroleum, Energy and Renewable Energy (MPEER) of the Republic of Côte d'Ivoire announced plans to organize a promotional campaign which will focus on all eighteen open offshore blocks with a special emphasis on five shallow water blocks located on the eastern side of the basin.
PGS has acquired new MultiClient data and built a CDI MegaSurvey that covers most of the remaining open blocks. This enables evaluation of the western Ivorian basin in a regional 3D context, providing an excellent overview of all play types.
The CDI MegaSurvey encompasses 23 000 sq. km of the offshore Cote d'Ivoire area.
New datasets are available over CI-101, CI-205, and CI-706. Advanced multi-azimuth illumination is provided on CI-706, a first for Cote d'Ivoire. It reveals more detail of the syn-rift/transform tectonic system and the migration paths of the post-rift channel and fan systems in the area.
Guinea
There is a growing interest in the MSGBC basin and, although there is no formal licensing round, the government of Guinea is open to discussion on future exploration.
Fast-track data results are available of PGS' 2019 MultiClient 3D survey in the MSGBC basin, offering a detailed indication of the geological plays in the area. This includes shallow and deep targets within blocks A4 and A5. Full-integrity PSTM results, available in early 2020, are expected to enhance the imaging even further.
Egypt
The much anticipated offshore Egypt round will extend exploration opportunities in Africa's most prolific petroleum provinces.
The Mediterranean offshore western Egypt presents 80 000 sq. km of frontier opportunities. The area is bounded to the south by the mature onshore Western Desert basins and to the east by the prolific Nile Delta cone. The PGS data library is available to start evaluating hydrocarbon potential.
PSDM processing results are now available on the company's new 22 000 km regional long-offset GeoStreamer 2D dataset. They offer an important link between mature eastern acreage and the western frontier. PGS has 6 000 sq. km of 3D coverage in this area, with an additional 37 500 km of 2D data with well and field ties on around 8 000 km, linking the Nile Delta to the western frontier area. A comprehensive interpretation has been carried out based on a basin modeling study.
KeyFacts Energy Industry Directory: PGS
To review our Energy Country Review resource, take the 7-day free trial by clicking at the top of this page to access over 2,300 continually updated 'country specific' energy company profiles or contact KeyFacts Energy for full details.