BW Energy is presenting at the Pareto Securities' Energy Conference today and will references the progression of an alternative development plan for Hibiscus/Ruche, utilising a converted jack-up instead of constructing and installing a new wellhead platform. The conversion concept is expected to reduce development capex, time to first oil and enable a substantial reduction to field-development related climate gas emissions by re-using already existing energy infrastructure.
The alternative development plan has the potential to lower the estimated cash-break even oil price for the Hibiscus/Ruche (phase 1 and 2) development to approximately USD 25 per barrel Brent. A final decision to restart the Hibiscus/Ruche development is subject to lifting of COVID-19 restrictions to allow for efficient project execution, currently expected towards year-end 2020.
The presentation also refers to the expected impact from completion of the remaining two wells of the Tortue phase 2 development. These are currently expected to be completed at end of Q2 2021, adding 8-9,000 gross bbls/day at peak.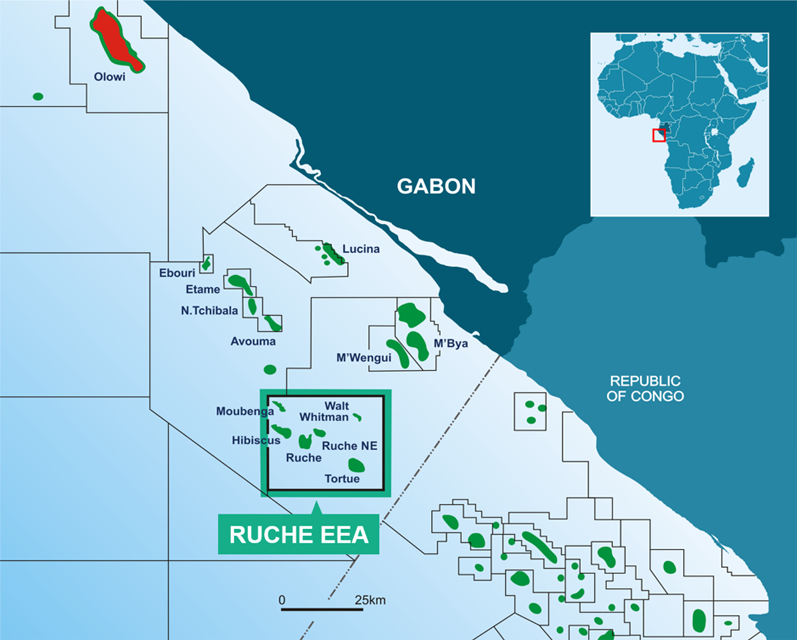 Map source: BW Energy
Dussafu Marin Permit
The Dussafu Marin Permit and the associated Ruche Exclusive Exploitation Area (EEA) production license are located approximately 50 kilometers off the coast of Gabon.
The Ruche EEA covers an area of approximately 850 square kilometers. The water depth within the Ruche EEA ranges from 70 meters in the northeast corner to 650 meters in the southwest corner. Six oil discoveries have been made on the license to date: Tortue, Hibiscus, Ruche, Ruche North East, Moubenga and Walt Whitman.
The area comprising the Tortue, Hibiscus, Ruche and Ruche NE fields is centrally located within the Ruche EEA, with a water depth of approximately 116 meters.
Oil from Dussafu is a good quality crude that generally trades on an equivalent basis to Brent. The crude is typical of the region and is sweet with an API gravity of 28 to 30 degrees API.
KeyFacts Energy: BW Energy Gabon country profile