KeyFacts Energy holds a global database comprising over 600 Oil & Gas and renewable energy profiles. The following example provides a snap-shot guide to IGas's onshore UK operational activity.
IGas Energy plc is a leading onshore oil and gas exploration and production business, holding a portfolio of production and exploration assets focused on three regions: the North West, East Midlands and the Weald Basin in Southern England. The company is currently producing c.2,200 barrels of oil equivalent per day from over 100 sites across the country.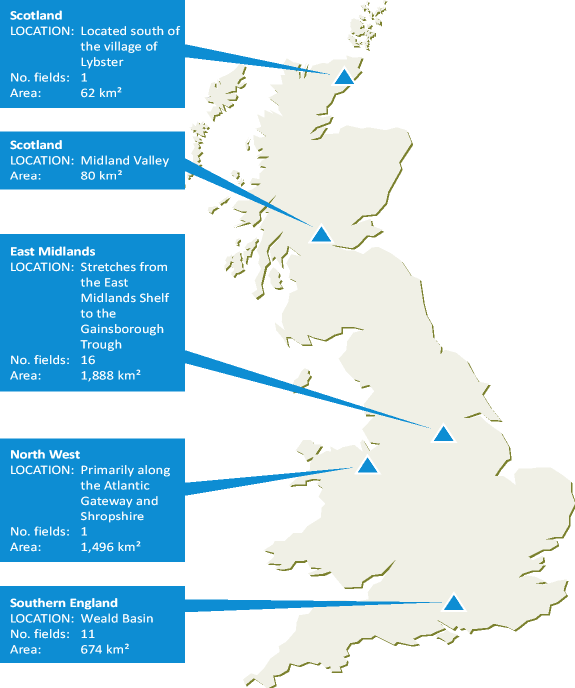 UK Operations
Scotland - Lybster Field
IGas acquired Caithness in December 2013 which includes a 100% interest in the Lybster Field which is drilled from onshore to offshore. The field was discovered in the 1996 by Premier Oil, at well 11/24-1 which tested 36 API oil at over 2,000 bopd from the Beatrice Formation.
The field was put into production in May 2012 and, prior to being temporarily shut-in for a routine workover, was producing approximately 200 bopd gross and in excess of 2mscf/d of associated gas. IGas are currently seeking planning permission to install Compressed Natural Gas (CNG) equipment on the site.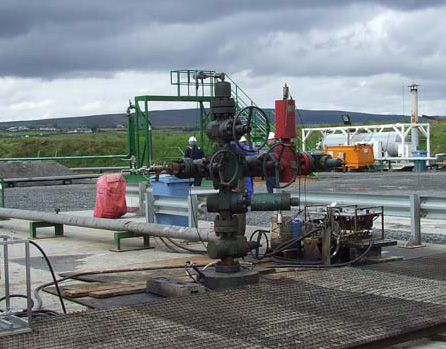 North West
In the North West IGas have an interest in 11 licences, located in the counties of Cheshire and Staffordshire that contain the Carboniferous Coal Measures and Bowland-Hodder shales.
The total net acreage in this region is 1,496km² (approximately 369k.acres).
East Midlands
IGas's East Midlands acreage stretches from the East Midlands Shelf to the Gainsborough Trough and the Widmerpool Gulf. The Gainsborough area is made up of 10 fields and a processing facility. Oil is transported to Phillips 66 via road tanker, gas is piped to Gainsborough 1 for power generation and produced water is pumped for reinjection.
Waterflood Projects: In July 2020, IGas announced that, in spite of the considerable challenges related to the Covid-19 pandemic, the company commenced water injection at their Scampton North site on schedule and on budget. As well as increasing oil production, the in-field pipeline and a new Separation facility at the Scampton North C-Site will provide greater efficiency and environmental improvements by reducing venting, the need to truck water to the Welton Gathering Centre, as well as increasing the amount of gas available for power generation.
The DeGolyer & MacNaughton ("D&M"), CPR estimated 180 Mbbl of incremental 2P (Proved plus Probable Undeveloped) reserves and IGas's mid-case economics for the project have an IRR of over 40% and a NPV of £2.5 million (which assumes a long-term oil price of $55/bbl).
Southern England
The Weald Basin is the source of approximately 50% of the company's current production.
The net acreage is inclusive of 11 fields within which there are 10 producing wells ranging from Stockbridge, near Winchester, in the west to Palmers Wood near Gatwick in the east and now includes the Singleton field. The area has produced more than 21 million barrels of oil to date.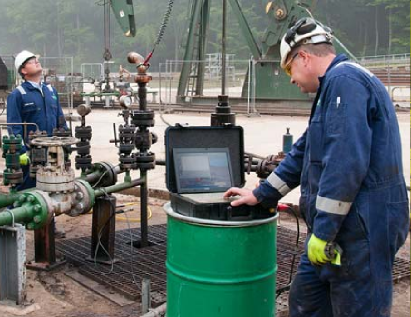 IGas have a 100 per cent interest in all but three of the licences held in the Weald Basin. Oil is collected by tanker from the sites and transported to the company's processing facilities at Holybourne which has storage for more than 20,000 barrels and a rail terminal allowing them to transport their products to local refineries by train. IGas also handle oil on behalf of other operators in the area, providing the company with an additional revenue stream.
Acquisition of Geothermal Energy Generation Business
In September 2020, IGas entered into a share purchase agreement ("SPA") to acquire GT Energy, a developer of deep geothermal heat projects onshore in the UK.
The acquisition is in line with IGas's strategy of diversifying into the wider UK energy market whilst leveraging its core competencies as an UK onshore operator.
Geothermal Energy in Europe
Geothermal energy is increasingly being used across the world, with a number of towns and cities adopting it to provide heat and electricity to both significant users, such as large council buildings, warehouses and the general public through district heating systems.
Within Europe alone, in the past 5 years, the installed capacity of deep geothermal heating and cooling plants has increased by over 1GWth, with 327 plants, a total capacity of 5.5GWth, in operation. There are 57 plants in the Paris basin, providing heat around Paris and in the area around Munich, Southern Germany, there are 37 projects that supply significant quantities of renewable heat to suburbs and towns.
Currently in the UK, residential heating alone represents over 20% of primary energy demand, more than 90% of which is from non-renewable sources. In the challenge to meet net-zero, decarbonising heat will be fundamental. There is the potential for approximately 50-100 geothermal projects across the UK with an average size of 10MWhth.
This acquisition is IGas's entry point into this fast emerging sector, an area that through the energy transition IGas expects to see significant growth.
GT Energy
GT Energy's principal project is a 14MW deep geothermal project in the Etruria Valley, Stoke-on-Trent. The project is anticipated to supply zero carbon heat to the city of Stoke-on-Trent on a long-term 'take or pay' contract ("TPA") with Stoke-on-Trent City Council ("SoTCC"). It is anticipated that the heat will be supplied through the SoTCC owned and operated district heating network, which is undergoing installation.
Geothermal energy will be harnessed by drilling into a geological formation beneath Etruria Valley using two wells that will be drilled to an approximate depth of 3,800m.
The first well will be used to abstract geothermal water from deep underground. This will then be passed through a heat exchanger in the geothermal plant, before being returned back into the ground through the second well. This phase of construction is expected to take around 170 days to complete.
An energy centre will be built underground in order to minimise the visual impact. As a result, only a head house will be visible above ground, built to provide access to the underground chamber beneath. This will house the Heat Exchanger which will play an important role in harnessing renewable heat from the geothermal water. This heat will then provide customers with their heat and hot water requirements. Construction of the head house and energy centre will take around six months to complete, with operation commencing shortly afterwards.
A programme to install a district heating network to distribute heat from the proposed plant in Stoke-on-Trent would be developed by Stoke-on Trent City Council.
The project received pre-accreditation from the Department of Business, Enterprise and Industrial Strategy under the Renewable Heat Incentive scheme earlier in 2020 and it will have tariff guarantee from Ofgem prior to construction.
All the geophysical work on the project is complete and the necessary permitting in place. Planning was granted historically for the project and needs to be renewed. Under the current timetable it is anticipated that drilling and testing could commence in Q2/Q3 2021 with the installation operational by March 2022.
The combination of the two businesses will create significant synergies, utilising IGas's expertise in well engineering, drilling and onshore operations with GT Energy's knowledge in deep geothermal projects, including negotiating long-term heat supply contracts. This will allow both the efficient execution of the Stoke-on-Trent project and the building of a significant pipeline of projects some of which could utilise IGas's existing well stock and longstanding relationships in its current operational areas.
For more details about our company profile database, contact us.
KeyFacts Energy: IGas Energy UK country profile