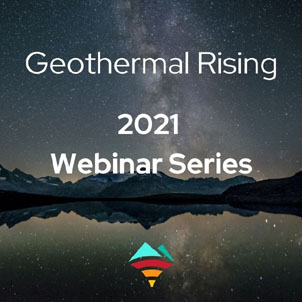 Presenter: Cristina Vasilache, Schlumberger
Date: January 28, 2021
Times: 5:00 PM Pacific / 8:00 PM Eastern
For geothermal wells that lack the permeability required for self-flow, the Electric Submersible Pump is a demonstrated way of artificially lifting the well offering considerable advantages for geothermal operators' production needs as well as an option for reducing the parasitic power.
The geothermal industry uses a combination of self-flowing wells and wells that lack the permeability required for self-flow. The latter typically requires a method of artificial lift in order to be produced. One of the methods used is the Electric Submersible Pump (ESP).
The ESP technology was invented more than 100 years ago and has been widely used and adapted to lift wells in the oil-and-gas industry. It offers an array of advantages such as high flowrates, deeper pump-setting depths, tolerance of well deviations, high horsepower, reduced installation time, downhole monitoring devices, and reduced requirement for motor maintenance. ESP applications in geothermal wells are relatively recent, mainly due to limitations in production temperatures and long-term reliability. In recent years, ESP providers have been paying close attention to the needs of the geothermal industry, and improvements to ESPs are being implemented so that these pumps are able to operate at higher temperatures, with higher flowrates, and more reliably, while also offering a reduction in parasitic power through the use of Permanent-Magnet-Motor (PMM) technology.
Understanding the benefits of ESPs and how they are being adapted to geothermal environments is key for both ESP providers and geothermal operators. This webinar aims to offer an insight into ESP technology and its application in geothermal wells, present, and future.
Register for the 7:00 AM Pacific webinar l Register for the 5:00 PM Pacific webinar