As part of our 'at-a-glance' guide to company global upstream operational activity, we feature Hartshead Resources.
Hartshead Resources is an ASX-listed gas development company focused on building a financially, technically and environmentally responsible European Energy business.
Hartshead's goal is to secure and invest in projects where resources can be extracted and delivered to meet Europe's growing energy demand while supporting the transition to a low carbon future. To meet this goal the principle focus is to develop gas resources whilst ensuring these are low emission development projects. Hartshead are also pursuing an aggregation strategy to aggregate smaller gas pools which support infrastructure investment and secure development capital.
In progressing this strategy Hartshead secured a formal award of a single license (Production Seaward License P2607) comprising five blocks in the UK 32nd offshore licensing round. Hartshead brings together a highly experienced oil and gas team with specialised knowledge covering subsurface, engineering, commercial, QHSE and capital markets with the required skillsets needed to successfully and safely deliver oil and gas upstream projects.
The Phase I development of 3241 Bcf of gas will provide Hartshead with an infrastructure hub to secure gas transportation and processing to the UK gas National Transmission System (NTS) and achieve initial gas production from License P2607. The Phase I infrastructure hub can then be leveraged to commercialise the Phase II gas resources and the Phase III exploration portfolio, which collectively add significantly to the overall project, delivering cumulatively 0.81 Tcf (trillion cubic feet) of gas resources, of which over 4601 Bcf is already discovered resources ready for development.
UK Operations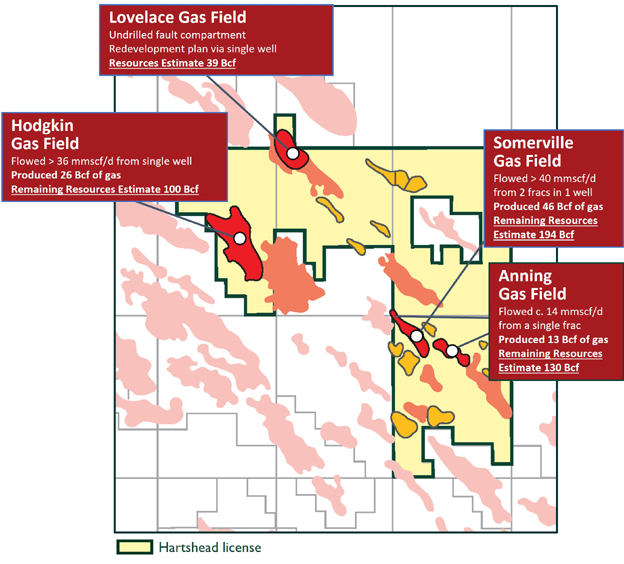 UK SOUTHERN NORTH SEA
Hartshead is 100% owner and operator of License P2607 which is comprised of five blocks in Quads 48 and 49 on the United Kingdom Continental Shelf, in the Southern Gas Basin. The License contains multiple gas fields, some of which have been only partially developed and produced. There is also a portfolio of exploration prospects.
Operations
The gas fields and prospects are divided into three phases for workstreams and operations:
PHASE I
Comprises the Somerville and Anning Gas Fields. Both fields have historic production, multiple well penetrations, 3D seismic coverage and combined remaining resources of 324 Bcf of gas (2C contingent resources). Hartshead has commenced field development planning work on these two fields and intends to define the development concept and gas export route during 2022, take Final Investment Decision (FID) on the development in 2023 and achieve first gas in late 2024. The proposed facilities concept for the Phase I development comprises of two, minimum facilities, normally unmanned installations (NUIs); one at each of the Anning and Somerville gas field locations. The NUIs will have low power requirements with on-platform renewables (wind and solar power) to reduce emissions as part of Hartshead's commitment to low emissions development. The Anning and Somerville gas fields will each be developed via three extended reach, horizontal production wells.
Phase I Upcoming Activities
Concept Select Report submission and approval
Updated audit of gas Resources/Reserves (Competent Persons Report (CPR))
Heads of Agreements with 3rd party host with key commercial terms
Entry into detailed engineering and well planning
Begin preparation of Final Field Development Plan
Commence environmental surveys and preparation of Environmental Statement
Commence Final Investment Decision (FID) planning and associated finance structuring
PHASE II
Comprises the Hodgkin and Lovelace Gas Fields. Similarly, these field have production, well penetrations and 3D seismic coverage. The Phase II subsurface workstreams have resulted in the construction of a new geological and geophysical database, detailed interpretation of the new 3D seismic data and petrophysical analysis. The next steps of the work programme will include a gas-in-place volumetric calculation, new production forecasts for both the Hodgkin and Lovelace gas fields, and revised recoverable resource estimates (2C). Following completion of these latter workstreams a decision can be made to proceed with field development planning for the two fields. This will present the opportunity to utilise the Phase I infrastructure in order to monetise the Phase II gas production which may lead to potentially enhanced economics of the Hodgkin and Lovelace fields.
PHASE III
Hartshead's exploration portfolio has undergone a study by Xodus Group which has generated a new prospect inventory totalling 14 prospects and leads with unrisked 2U Prospective Resources of 344 Bcf. Additional work is planned to de-risk the prospects further, economically evaluate and rank the prospects prior to the short-listing of a preferred prospect for initial well planning and drilling.
Phase II & Phase III Activities
Entry into Phase II Field Development Planning (Concept Select Stage)
Finalise Phase III exploration prospect inventory & high grade prospects
Commencement of exploration well planning
Updated CPR audit of revised Contingent and Prospective Resources
PHASE I DEVELOPMENT – ANNING AND SOMERVILLE FIELDS
Geological reservoir modelling for the Anning and Somerville fields has now been completed by Xodus Group. A total Phase I gas-initially-in-place (GIIP) volume of 587 Bcf has been calculated. The revised GIIP volume is split 219 Bcf and 368 Bcf between the Anning and Somerville gas fields, respectively, with the 112 Bcf GIIP increase in the Somerville field due partly to previously unmapped extension of the field. Anning and Somerville dynamic reservoir models (derived from the geological models above) have been history matched to the previous field production and pressure profiles.
Contingent and Prospective Resources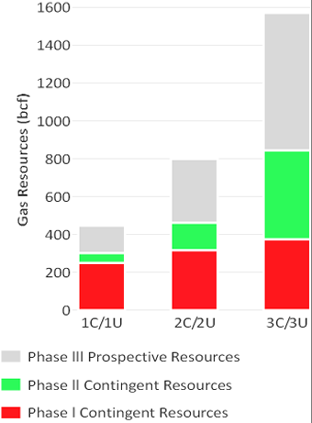 These history matched models can now be used in "prediction mode", to forecast gas flow rate and production from new planned wells on the fields. The history matched models are now being used to optimise frac design and placement, and development well trajectories.
Results from the dynamic reservoir simulation modelling, will be combined with well geometry, facilities and export route pipeline information to forecast production from the total Phase l development plan.
PHASE I GAS TRANSPORTATION AND THIRD PARTY INFRASTRUCTURE ACCESS
Hartshead is currently in commercial and technical discussions with a third party, regarding a jointly identified tie-in point, into the third parties infrastructure, for onward transportation to the Bacton. This infrastructure, with associated capacity, availability and pressures formed the basis of the Phase I gas transportation network model. Hartshead and the third party are currently jointly developing a scope of work for the next stage of engineering work to define the sub-sea pipeline connection, platform modification and other works required for the tie-in.
The new Phase I field development production forecasts have resulted in a revision to Hartshead's estimate of the recoverable resources for the Anning and Somerville fields. These revised resource volumes will be subjected to economic analysis, and a Peer Review and Competent Persons Report (CPR) by ERCE. The increase in the in-place volumes is due to revised subsurface interpretation. The increase in recoverable volumes is due to in the increase in the in-place volumes and optimised frac placement to increase recovery factor.
P2607 Production and Development Area
The multi-phased development of Hartshead's Seaward Production License P2607 has the potential to serve the UK Government's Bacton Energy Hub initiative and potentially provide material volumes of natural gas feedstock for blue hydrogen generation as well as providing future offshore infrastructure potentially for use in Carbon Capture & Storage and electrification projects.
Energy Transition
Hartshead is committed to its role in the UK's energy transition and to ensuring that the Company positively contributes to the UK's 2050 Net Zero target and is currently examining a number of options to develop its Phase I assets in a lower carbon setting as part of the Concept Select program.
The Offshore Petroleum Regulator for Environment and Decommissioning (OPRED), part of the UK Government's Department for Business, Energy and Industrial Strategy (BEIS), working with the North Sea Transition Authority (NSTA), are key stakeholders who interface with Hartshead on matters relating to the stewardship and regulation of Harthead's Seaward Production License P2607. OPRED and the NSTA play key roles in environmental matters relating to the Company's License and this has a particular importance given the UK Government's 2050 Net Zero target. As the Company progresses its Phase I field development, carrying out environmental surveys and preparing an environmental statement, it will interface with OPRED and the NSTA. This work will mark critical milestones in journey to the execution of a field development plan and ultimately first gas.
Outlook
Hartshead has an active 2022 period ahead as it completes the Phase I Project Field Development Planning Concept Select Stage prior to entering the FEED stage, progresses the phase II assets to development planning decision and completes a new CPR across the entire P2607 license area.
LEADERSHIP / CONTACT
Chris Lewis Chief Executive Officer
Dr Andrew Matharu Chief Financial Officer
Bevan Tarratt Non-Executive Chairman
Nathan Lude Executive Director
Jeff Barnes Project Developments Manager
Steve Roser Commercial Manager
Neil Marcus Subsurface Manager
Don Ferguson Operations Manager/Advisor
Adam King Procurements Manager
Steve Smith QHSE Manager
Adam King Contracts & Procurements Manager
Hartshead Resources NL Head Office
Level 1, 89 St Georges Terrace
Perth WA 6000
Postal Address
PO Box Z5187, Perth WA 6000
Tel: +61 8 9226 2011
Twitter: @Hartshead_HHR
LinkedIn: hartshead-resources-nl
Website: hartshead-resources.com.au

If you would like a complimentary 7-day trial to our Energy Country Review resource, free access to our daily news alert service, details of marketing opportunities or if you would like to contribute to KeyFacts Energy, click here. We can provide access, sign you up, send full details or set up a quick online meeting to review our services in more detail.