Lynsey Johnston, aged 21, is currently in her final year of studying instrument and control as part of the Oil and Gas Technical Apprenticeship Programme.
Having recently finished her SVQ3 and Petroleum Open Learning exams, Lynsey has six months left of her apprenticeship before beginning her career.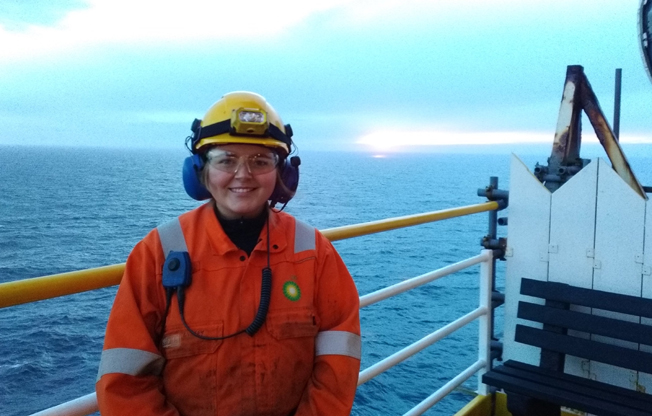 What inspired you to apply to the OGTAP scheme?
I decided when I was at school that university wasn't the right path for me. I'd known someone who had trained through the OGTAP scheme and from the way they spoke about it, it seemed like the perfect fit for what I wanted to do.
It's a great way to build up your skills after school and is a stepping stone into a career in the energy industry without going down the university route.
What has been the best element of your apprenticeship so far?
The best part has definitely been going offshore. The team I've been working with are really patient and are always happy to help. I find the team's eagerness to train us to the best of our ability really encouraging and it makes me even more excited to learn more and improve my skills.
Has there been any part of the apprenticeship that you have found particularly challenging?
I would say that adjusting to being away from home was quite challenging for me.
I'm originally from Falkirk so being away from home five days a week to attend college in Edinburgh helped to prepare me for working for three weeks at a time.
There's currently a big focus in the industry around the energy transition. How do you feel an apprenticeship prepares you for working the wider energy industry for example, in the oil and gas industry, but also potentially moving into renewables?
The basic training covers a variety of industries and are a good grounding for any sector. The principles we learn in my particular discipline, instrument and control, remain virtually the same across all industries. This means it's simply a case of applying and adjusting your existing knowledge to fit where you're working.
What advice would you give to anyone thinking of applying?
I think this is a great path for someone who enjoyed science and technology in school and would like to develop these skills in a safe yet challenging setting.
Although this industry could be seen as a traditionally male-dominated environment, you constantly feel included and are given great opportunities to progress.
From my experience, there are increasing numbers of girls looking for careers in the energy industry and I've made friends for life through the scheme.
No matter who you are, I would 100% recommend just going for it!
KeyFacts Energy Industry Directory: OPITO