Description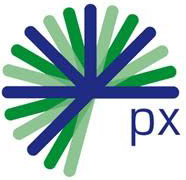 With over 25 years' experience of operating strategic assets, px has been involved in the development, operation and management of assets with a construction cost in excess of several billion.
The company manage, operate and maintain some of the UK's largest industrial facilities. Originally focused on large scale power generation and gas processing, their capabilities and expertise have expanded to include a diverse range of sectors including LNG, fuels, renewables and offshore. The company's client base is as diverse as their operating sectors, ranging from smaller start-up organisations to large multinational and blue chip organisations.
px Group's expertise is not confined to operations and maintenance, they also manage energy purchase and supply and provide a range of engineering services from plant optimisation to project definition and execution. px are able to support clients throughout the life-cycle of their assets.
The delivery model used is based upon a flexible and responsive approach working in partnership with each client. px specialise in deploying services which minimise risk and maximise availability and return, in a safe, professional and environmentally conscious manner.
px delivers services across the UK. The company also have experience in UAE, EMEA, Africa and South America by working in conjunction with global organisations.