Description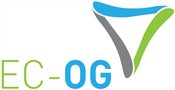 From its inception in 2013, EC-OG has built a reputation for excellent customer service through the delivery of professional engineering services.
Being at the forefront of subsea technology, the team at EC-OG are currently working on the commercialisation of the innovative Subsea Power Hub.
As an alternative to expensive electrical cables, EC-OG provide offshore autonomous electrical power products and solutions.
Subsea Power Hub
The Subsea Power Hub is a ground-breaking turbine system which harnesses the energy within ocean currents to produce autonomous electrical power for multiple applications. This new technology, patented by EC-OG, provides autonomous power to subsea infrastructure, reducing cost through efficient installation and removing the capital expenditure associated with electrical cables.
The Subsea Power Hub is a delta array of turbines or Ocean Generation modules. In simple terms, each module is an underwater battery unit with integral charger. Each module consists of a turbine, generator, battery pack and electrical conditioning system.
There are a number of benefits with the use of the Subsea Power Hub including:
Guaranteed localised power thanks to integrated intelligent energy storage system
Reduced vessel time/cost through simple installation
Flexibility in location – overtrawlable and low cut in speed
Reduction in mobilisation costs as the system is road transportable
Easy maintenance with retrievable cartridges
Reduced failure risk with on demand health monitoring system