Contacts
Petróleo Brasileiro
Avenida República do Chile
330/28º andar - Centro
Rio de Janeiro-RJ
CEP: 20.031-170
Brazil

Tel: (+5521) 25 34 12 95

Description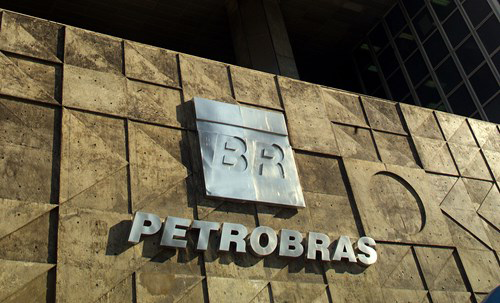 ​​​​​​​
Petróleo Brasileiro - Petrobras, was founded in 1953 to operate in the Brazilian oil sector. Over more than four decades the company has become the country's leader in the distribution of oil products and is now one of the largest twenty major oil companies in the world today, leading the sector in the implementation of the most advanced deep-water technology, for oil production.
Renewable Energy
In April 2019, PETRONAS entered into an agreement with I Squared Capital, a leading global infrastructure investor, to acquire 100% interest in Amplus Energy Solutions Pte Ltd, also known as M+, a leading Singapore-based company with a portfolio of distributed, renewable energy assets in Asia.
The acquisition, which is expected to be completed later this month, marks PETRONAS' international foray into renewable energy.
Strategic Plan for the 2020-2024
Capex
Petrobras' CAPEX forecasted for the five-year period is US$ 75.7 billion, of which 85% is allocated to the E&P segment. This allocation is in line with our strategic positioning, focusing on E&P assets, especially in the pre-salt, in which Petrobras has a competitive advantage and generates more return on investments.
The divestments forecasted in the plan vary between US$ 20-30 billion for the 2020-2024 period, being the highest concentration in the years 2020 and 2021.
Production of Oil, NGL and Natural Gas
The company decided to present a commercial production vision in order to represent the financial impact of production on the company's results, deducting from its natural gas production the volumes of gas reinjected into the reservoirs, consumed in E&P facilities and burned in production processes. In addition, the production curve does not include divestments, except of around 100 kboed, related to Nigerian fields and Tartaruga Verde field, which the sales transactions have already been signed and the closings are expected to occur in the short-term.
The oil and gas production curve estimated in the new plan indicates a continuous growth. During the five-year period, 13 new production systems are expected to start-up operation, all of which are allocated to deepwater and ultra-deepwater projects.
Estimated oil and natural gas production (million boed)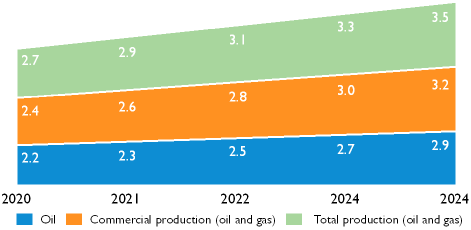 For the 2020 production target Petrobras consider a variation of plus or minus 2.5%. The oil production in this year mainly reflects losses in volumes related to natural decline of mature fields and higher concentration of production stoppages to increase the integrity of the systems, partially offset by the ramp-up of new platforms. In the long term, the growth trajectory is supported by the new production systems - mostly in the pre-salt, with higher profitability and value generation – and by Campos Basin production stability.