Contacts
Abu Dhabi National Oil Company
P.O. Box : 898. Abu Dhabi
United Arab Emirates

Tel: +971-2-6020000

Description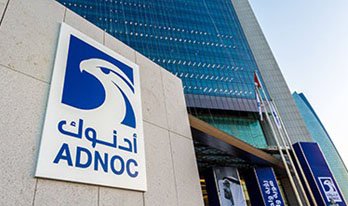 Each of the seven emirates is responsible for regulating the oil industry within their borders, creating a mix of production-sharing arrangements and service contracts. In Abu Dhabi, the Supreme Petroleum Council (SPC) sets Abu Dhabi's petroleum-related objectives and policies. Given Abu Dhabi's status as the central player in the UAE's oil industry, the SPC is the most important entity in the country when it comes to establishing oil policy.
Abu Dhabi National Oil Company (ADNOC) was established in 1971, to operate in all areas of the oil and gas industry and since then has steadily broadened its activity in establishing companies and subsidiaries and creating an integrated oil and gas industry in the fields of exploration and production, support services, oil refining and gas processing, chemicals and petrochemicals, maritime transportation and refined products and distribution.
ADNOC operate across the entire hydrocarbon value chain, through a network of fully integrated businesses, with interests that range from exploration, production, storage, refining and distribution, to the development of a wide-range of petrochemical products.
History
Oil was first discovered in the United Arab Emirates in 1958, at the Murban Bab Oil Field, following an extensive 30-year search.
The well, known as Murban-3, was completed in May 1960, and began producing crude oil at a rate of 3,674 barrels per day.
It took another three years of drilling, the creation of a 112km pipeline, and the construction of an export terminal in Jebel Dhanna, before exports could begin, with the first tanker of Abu Dhabi crude departing Jebel Dhanna port on 14th December, 1963.
Subsequent fields were quickly discovered - including the giant Bu Hasa field, west of Bab, and the Bida Al Qemzan, Asab, Shah and Sahil fields. Then, in 1971, as revenues from oil production started to grow, the late Sheikh Zayed bin Sultan Al Nahyan established the Abu Dhabi National Oil Company (ADNOC).
Since then, ADNOC have played an integral role in Abu Dhabi's economic development, managing, producing and preserving the emirate's hydrocarbon reserves, on behalf of the Abu Dhabi Government.
Today, while ADNOC manage and oversee production of around 3 million barrels of oil per day - which places them among the largest oil producers in the world – the company's portfolio has also expanded to include sophisticated refining and petrochemicals businesses; an extensive network of gas and petrol service stations, and a modern transportation fleet that includes LNG and LPG carriers, oil and chemical tankers, bulk carriers and container vessels.
2019-2023 Business Plan
Abu Dhabi's Supreme Petroleum Council (SPC) approved the Abu Dhabi National Oil Company's (ADNOC) new integrated gas strategy and plans to increase its oil production capacity to 4 million barrels per day (mmbpd) at the end of 2020 and 5mmbpd by 2030.
The SPC meeting was presided over by H.H. Sheikh Mohamed bin Zayed Al Nahyan, Crown Prince of Abu Dhabi and Deputy Supreme Commander of the United Arab Emirates (UAE) Armed Forces and Vice-Chairman of the SPC.
The SPC's approval of ADNOC's gas strategy will add potential resources that will enable the UAE to achieve gas self-sufficiency, with the aim of potentially transitioning to a net gas exporter. At its meeting, the SPC announced new discoveries of gas in place, totaling 15 trillion standard cubic feet. It also announced new discoveries of 1 billion barrels of oil in place and approved ADNOC's new five-year business plan and capital investment growth of AED 486 billion (US $132.33 billion) between 2019-2023.
The gas strategy will sustain LNG production to 2040 and allow ADNOC to seize incremental LNG and gas-to-chemicals growth opportunities, where they arise, from the UAE's dynamic demand/supply position and evolving energy mix.