Description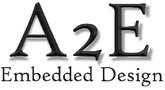 Established in 2002, A2E delivers innovative hardware and software design services across a range of industries. The company's extensive experience, keen insight, and proven results give clients a leading advantage in product or project solutions, including novel cross-market transfer of technologies.
A2E utilise a well-defined process to ensure the results meet the demands of client projects. At virtually every step, from feasibility studies, prototypes, even complete volume manufacture and testing, A2E can develop and differentiate client products to move them to market quickly and efficiently.
Oil and gas
As oil and gas resources continue to command a dominant role in the world's energy production, A2E solutions are utilized in a growing range of applications - from exploration and production, to asset integrity and safety.