Description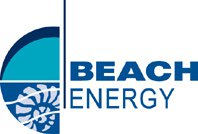 Formed in 1961 and listed on the Australian Securities Exchange in 1962, Beach Energy is an oil and gas exploration and production company headquartered in Adelaide, South Australia. Beach has a core focus on the resource-rich Cooper Basin with gross acreage of over 69,000 km².
Beach holds interests in more than 450 exploration and production tenements in Australia and New Zealand.
Q1 FY20 production of 6.5 MMboe was down 6% on the prior quarter due to the completion of the Otway Sale and low customer nominations at BassGas, partly offset by increased Cooper Basin production, with Western Flank recording a 7% production increase and Santos-operated Cooper Basin JV production, flat.
History
Beach Energy Ltd, formerly Beach Petroleum Ltd, was established in the early 1960s by the late Dr. Reg Sprigg, a highly regarded Australian oilman, geologist, explorer and conservationist.
Prior to founding Beach, Dr. Sprigg acted as technical advisor to Santos Limited, now one of Australia's largest oil and gas companies. Dr. Sprigg was instrumental in focusing Santos' early exploration efforts on the Cooper Basin of central Australia, now Australia's largest onshore petroleum producing region.
Beach grew its assets steadily through the 1960s, 70s and early 80s, by which time it held a broad range of promising exploration and production tenements, extensive cash reserves, plus a long term revenue base from its oil and gas discoveries at the time.
The Company's pioneering exploration in the Otway Basin of south-eastern Australia resulted in significant discoveries of commercial gas at Port Campbell in 1979. In the early 1980s it made oil discoveries at Jackson, Bodalla South and Kenmore in south-western Queensland.
A takeover by the Independent Resources Group in the mid 1980s resulted in a severe depletion of the Company's cash and assets.
With the election of a new Board in the 1990s, the Company returned its focus to traditional oil and gas exploration, and now has a comprehensive and exciting portfolio of both exploration and production tenements.