Description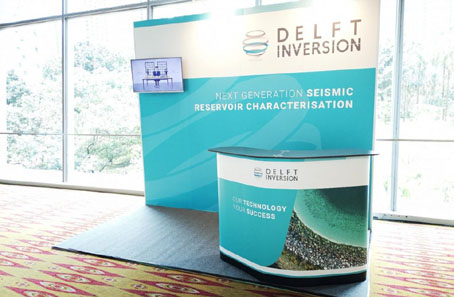 Delft Inversion is a service company offering leading edge inversion technologies to the E&P industry. The company was established in 2012 and is currently located in Delft, the Netherlands. The founders of Delft Inversion met as part of their membership in the Delphi research consortium where they were involved in the development of several seismic imaging methods, including wave-equation based AVO inversion.
The company's core product WEB-AVO, a wave-equation based, AVO technology has been developed by the founders of Delft Inversion over a period of more than 10 R&D years at Delft University of Technology. During the first years after establishing Delft Inversion, the WEB-AVO technology was successfully applied in close collaboration with oil and gas operators to a wide range of business challenges in different geological plays around the globe.
The unique technological features of WEB-AVO led to many satisfied project partners and consequently allowed Delft Inversion to form and grow an experienced team with unrivaled expertise in this next generation seismic reservoir characterisation technology.
Today everybody at Delft Inversion shares one vision: Creating an edge for their clients and partners in the E&P, geothermal and CO2 storage industries by utilising the company's unique technology portfolio.
Services
Delft Inversion provide the full range of geophysical services that is required to come up with the best possible quantitative understanding of the subsurface. Since each subsurface project is unique the company have an open-minded and collaborative culture to ensure that their team and their tools can be of most value to client specific cases. Delft Inversion favour a modular approach with clear checkpoints. The company's belief is that this business model will be beneficial not only to clients but also to Delft Inversion.
Seismic-to-well ties
calibration of overburden effects
wave-equation consistent wavelet extraction
Low frequency model building
horizon steered interpolation of well logs
depth trend based model building
Quantitative interpretation
lithology classification
calculation of porosity and saturation volumes
reserve estimation
detection of fluid contacts
residual gas discrimination
WEB-AVO inversion
wave-equation based AVO inversion
proper handling of multiples, mode conversion and transmission effects
direct inversion for compressibility, shear compliance and density
simultaneous inversion of time-lapse datasets
simultaneous inversion of PP/PS datasets
Data preconditioning
AVO preservation
proprietary S/N enhancement
structure preserving filtering
linear noise removal
amplitude balancing
residual moveout correction
spectral shaping
Technology
The technology portfolio of Delft Inversion creates a number of opportunities to operators of oil&gas, geothermal and CO2 storage projects.
Technical benefits
Less reliant on user-intensive building of an accurate low-frequency model
Typical bandwidth of final compressibility volumes is in the range of 4Hz or lower, totally derived from the input seismic data
The above usually translates to savings of two weeks of human/computer time compared to other commercially available solutions
Deliverables are reservoir models in terms of compressibility and shear compliance which discriminate lithology and fluid effects most successfully
The above models can be more easily integrated into reservoir modelling studies and flow simulations
Closing the loop between geoscience and reservoir engineering
Operational benefits
Reduce seismic processing time by 30% – No AVO processing
Provide an 80% reservoir model solution immediately after processing – No need to wait for full field appraisal
More efficiently de-risk exploration/farm-in/acquisition opportunities
More accurate GRV estimates