Contacts
Open Joint Stock Company Gazprom
16 Nametkina St.
Moscow
Russian Federation

Tel: +7 (495) 719-30-01

Description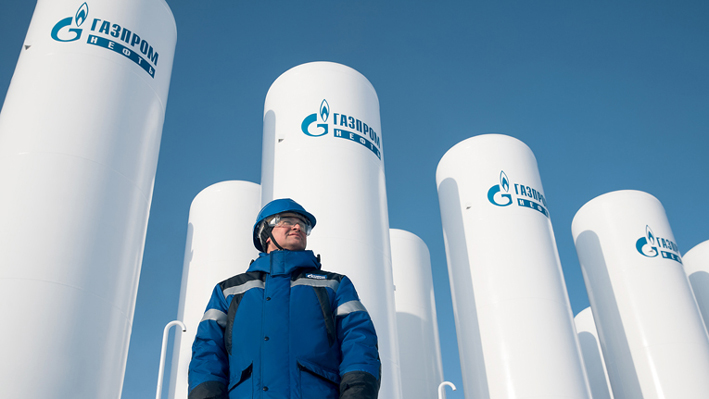 Gazprom was founded in February 1993 (as Russian Joint Stock Company Gazprom). The federal government holds the controlling (50.002 per cent) interest in the company.
Gazprom is the world's biggest gas company and accounts for 94% of Russia's gas production (23% of the world output). The Company produce about 8% of the country's GDP and contribute about 25% of all tax revenues to the federal budget.
The major part of Gazprom's production fields are located around the Gulf of Ob in Yamalo-Nenets Autonomous Okrug in Western Siberia, while the Yamal Peninsula is expected to become the company's main gas producing region in the future. Gazprom possesses the largest gas transport system in the world, with 158,200 kilometres of gas trunk lines. Major new pipeline projects include Nord Stream and South Stream.
Gazprom also carries out prospecting and exploration in foreign countries such as India, Algeria, Venezuela, Vietnam, Libya, Kazakhstan, Uzbekistan, Kyrgystan and Tajikistan.
Gazprom holds the world's largest natural gas reserves. The Company's share in the global and Russian gas reserves amounts to 17 and 72 per cent respectively. Gazprom accounts for 11 and 66 per cent of the global and national gas output correspondingly. At present, the Company is actively implementing large-scale gas development projects in the Yamal Peninsula, the Arctic shelf, Eastern Siberia and the Russian Far East, as well as a number of hydrocarbon exploration and production projects abroad.
Gazprom is among Russia's top four oil producers. The Company also owns major power-generating assets accounting for some 17 per cent of the total installed capacity of the national energy system. In addition, Gazprom ranks number one in the world in terms of thermal energy generation.
Gazprom Neft
Gazprom Neft is a vertically integrated oil company primarily engaged in oil and gas exploration and production, refining, and the production and sale of petroleum products. Gazprom Neft's corporate structure encompasses more than 70 exploration and production, refining, and retailing enterprises in Russia, the CIS and worldwide.
The company's proven and probable reserves (SPE-PRMS) are estimated at 2.78 billion tonnes of oil equivalent (btoe), making Gazprom Neft one of the 20 largest oil and gas companies worldwide. Gazprom Neft is also a Top 3 company in Russia in terms of production and refining volumes. Total production in 2017 amounted to 89.75 million tonnes of oil equivalent (mtoe), with refining volumes of 40.1 million tonnes.
Gazprom Neft's products are sold throughout Russia and exported to over 50 countries worldwide. The company's filling station network has more than 1,850 stations throughout Russia, CIS and Europe.