Bulgarian Association Geothermal Energy
Contacts
Bulgarian Association Geothermal Energy
Alexander Zhendov 6 Str.
Floor 3, Office 305
Sofia 1574, Bulgaria

Tel:
office@bage.bg
Description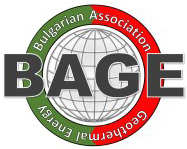 The Bulgarian Association Geothermal Energy (BAGE) is a member supported, non-governmental organisation, bringing together science, business and experts working in all the fields of geothermal energy use.
The organisations aim is to unite the efforts of their membership for the development of geothermal energy in Bulgaria. BAGE supports the research, development, and implementation of modern geothermal energy solutions to help Bulgaria transition to a sustainable and climate-neutral energy future.
BAGE members have significant experience in the science, technology, and the practical applications and uses of geothermal energy. This allows them to think strategically, to innovate and to create new ideas and recommendations for policies essential to building sustainable energy independence in Bulgaria. BAGE guarantees to work tirelessly to accelerate growth in the use of geothermal energy in Bulgaria, to make it an indispensable alternate source of heat and electricity to power the country toward 2050 and beyond.
The government of Bulgaria has stated a goal to oversee the development of 400 MW of geothermal energy capacity by 2026. The setting of this ambitious target highlights the important role geothermal energy will play in the transition of Bulgaria to a successful low-carbon economy.
Greater development of geothermal energy in Bulgaria is now a cornerstone in the plans of the country for the energy transition. This is because geothermal is the only source of renewable energy that can provide constant, clean and affordable base-load energy without additional needs for battery storage. Its development will reduce dependence on the mix of fossil-fuels and nuclear power that provide more than 80% of base-load energy capacity today.