Contacts
Ascent Resources plc
5 New Street Square
London EC4A 3TW

Tel: 020 7251 4905

Description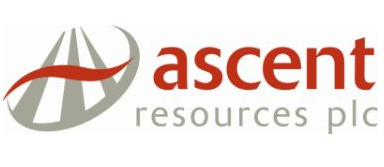 Ascent Resources plc is an independent oil and gas exploration and production ('E&P') company, headquartered in London and listed on AIM, whose principal asset is in Slovenia.
The Board firmly believes that the gas field at Petišovci in Slovenia is the Company's outstanding prospect and therefore intends to focus its resources on this project. The Company's strategy is therefore to allocate the bulk of its available funding to bringing Petišovci into production.
Ascent plans to continue its exploration and business development programme in the longer term and to take advantage of the significant possible reserves and contingent resources in the regions in which it operates.
Production
Total production in December 2018 was 420,559 cubic metres (14,852 Mcf) an average of 0.5 MMscfd and revenue for the month was €84,144.
Strategic direction
The Company's focus for many years has been to develop its high-potential Petišovci project in north-eastern Slovenia. However, since successfully commencing export production in November 2017, the Company has been unable to build on this achievement and develop the project as planned due to permitting issues.
During 2018 the Company carried out an extensive strategic review process where the project was marketed widely to potential partners. Despite a significant level of interest from well qualified parties, the process was frustrated, in a large part, by the uncertainties created by the Slovenian permitting system.
Early in 2019, the Board of Ascent resumed its previous strategy to expand its interests beyond Slovenia while continuing to focus on a way forward to develop the significant reserves at Petišovci. This expansion is focused on new projects in the region, with well-developed oil & gas infrastructure, a proven working petroleum system and an established regulatory and legal framework that will allow Ascent to deliver real growth to its shareholders.
The Company will concentrate on opportunities that offer near-term drilling and production or where there is scope to unlock material reserves through appraisal drilling.