Description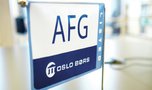 AF Gruppen is a leading contracting and industrial group. Curiosity, entrepreneurial spirit and execution capability have made AF Norway's third largest contractor.
Offshore
The Offshore business area encompasses AF's services related to the removal, demolition and decommissioning of offshore installations. Offshore also includes new building, modification and maintenance work related to HVAC and rig services. In addition, Offshore has services related to the maintenance and modification of onshore facilities for the oil and gas industry.
Energy
The Energy business area encompasses AF's energy services for onshore activities.