Description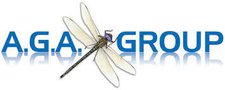 The AGA Group was formed in 1993 combining the environmental and aquatic consultancy "Ash Girdler Associates". The development and initial expansion into contracting were in the areas of aquatic landscaping and bioengineering.
AGA are a group of environmental aquatic engineers, ecology consultants and habitat and ecology designers who have been working on public and private projects within aquatic environments since 1977. AGA was among the first to develop systems for erosion control, lake & pond construction, and environmental and habitat enhancement.
The Company's years of experience working with both large scale habitat management projects and smaller-scale pond creation and lake management projects been AGA span the gambit from aquatic engineering to ecology consultancy. AGA have earned their space as the leading experts in aquatic engineering and fluvial management.
Since 1998 the AGA Group have been a leader in projects involving aspects of civil engineering work associated with the construction and refurbishment of dams, reservoirs, canals, embankments flood and coastal protection work and much of the associated infrastructure. The Group's acquisition of MMG Civil Engineering Systems (MMG) in 2001 further reinforced the civil engineering proficiency of the group.
The AGA Group is the parent organisation under which a number of specialist divisions operate:
Aquatic Consultancy
Ecology & Land Management Consultants
G.A. Bioengineering and Landscaping
G.A. Civil Engineering Systems
Fishery Management
Natural Swim Pond Company and Lake and Pond Construction
These divisions allow for an in-depth understanding of the specific elements of the environment and provide expert knowledge in these specific fields. A.G.A. Group has the in-house expertise to use our resources to successfully complete projects to the highest standards.