Contacts
Boudicca Exploration & Production Limited
151 Lauderdale Tower
Barbican, London EC2 Y8BY
England

Tel: +44 (0)191 308 0337

Description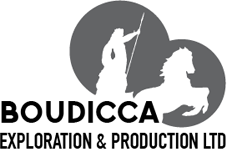 Boudicca-EP is a team of highly motivated and experienced Oil and Gas Professionals, dedicated to bringing to market, new and previously overlooked Oil and Gas reserves residing in complex Geological Structures.
This is accomplished through a combination of the company's own unique hardware, the application of their specialist propriety software and Skilled Interpretation of Geophysical and Geological Data.
This leads to accurate and low risk drilling of the structure with Boudicca-EP's state of the art directional drilling platform in both the Land and Marine environments.
Services:
Enhanced Oil Recovery
Subsurface Imaging
Directional Drilling
Transitions Zone Acquisition
Downhole Monitoring
Proprietary Technology