Contacts
Blue Gem Wind Ltd.
Bridge Innovation Centre,
Pembrokeshire Science and Technology Park,
Pembroke Dock,
Wales
SA72 6UN

Tel: n/a

Description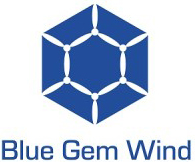 Simply Blue Energy, a pioneering Celtic Sea energy developer, and TotalEnergies, one of the world's largest energy companies, have established a partnership to develop floating wind projects in waters of the Celtic Sea.
The joint venture, Blue Gem Wind was announced in March 2020 and opens a new chapter in the development of offshore energy in the UK.
Floating wind is set to become a key technology in reaching Net-Zero with over 80% of the worlds wind resource in water deeper than 60 metres. Independent studies have suggested there could be as much as 50GW of electricity capacity available in the Celtic Sea waters of the UK and Ireland. Floating wind will also provide new low carbon supply chain opportunities, support coastal communities and create long-term benefits for the region.